Facebook launched my startup
Facebook launched my startup
Click here to view original web page at money.cnn.com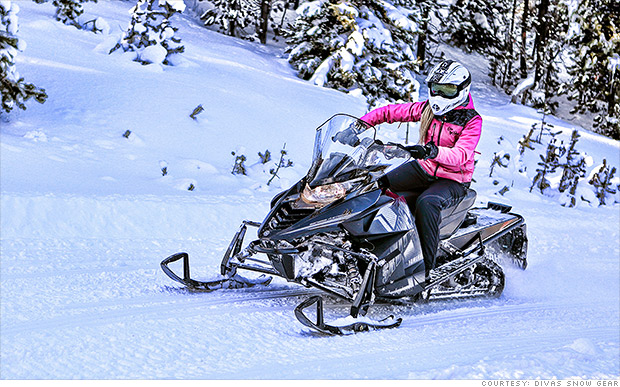 Wendy Gavinski, an avid snowmobiler, came up with the idea for Divas SnowGear out of sheer frustration.
"This is still a very male dominated sport," she said. " I just couldn't find attractive, flattering clothing for women who also enjoyed the sport."
So in 2010, the Madison, Wis., native started her own line of clothing for femalesnowmobilers with $30,000 of her own money. She turned exclusively to Facebook (FB, Tech30) to market her company and sell to customers.
"It was the only way I could reach my target customers," she said. "If I put an ad in an industry magazine, or a banner ad in a forum, the readership for both are men."
The company's Facebook page launched in 2010. Today the startup is profitable and has over 43,000 likes. They use the site for targeted regional advertising, specifically aimed at women from 20 to 50 years old.
Gavinski said they also use Facebook to drive traffic to the more than 500 local stores that sell their products.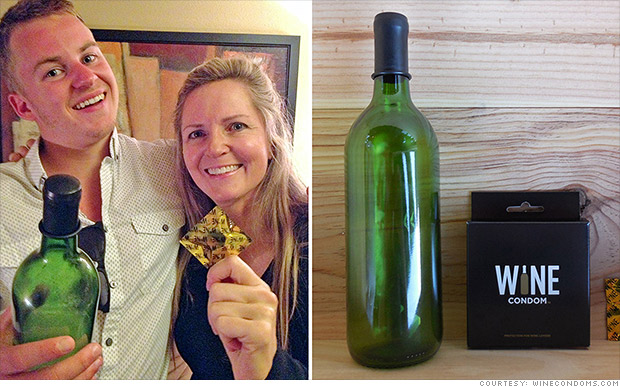 When Laura Bartlett came home from dinner with an unfinished bottle of wine, she had no idea it would spark a new business.
"I'd lost the cork and just sealed it with Saran wrap and a rubber band," she said. "It worked but [my son and I] joked that it looked liked a condom."
A year later, in January 2014, she and her son Mitchell Strahan took their idea to Kickstarter. The campaign raised just over $9,000, surpassing their goal of $7,500.
From there, the duo relied on Facebook to find customers and distributors. Strahan said they try to respond personally to each fan on the page.
"We started to get direct messages from private wineries in Australia, Spain and France and cruise ship companies," said Bartlett. "These are people we'd normally never have access to."
They also use Facebook to showcase viral advertising efforts.
"I recently went to a winery in Texas and my car was painted with the company slogan and logo," said Strahan. "We launched a 'spot the car' campaign on Facebook to get people interested."
The Wine Condoms started selling last month on the company's website, and Bartlett hopes to have them in retail stores soon.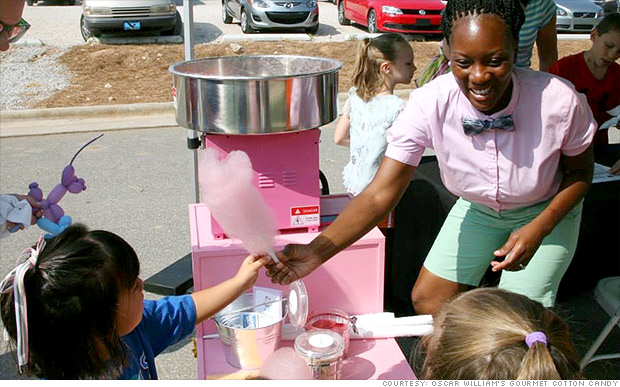 Tasha Kornegay is a mental health therapist in Apex, N.C., and a fundraiser for HIV/AIDS awareness.
When her grant writing efforts weren't succeeding, her 14-year-old son -- who loves cotton candy -- suggested she sell the sugary treat to raise money.
In June 2013, she and her husband did just that, selling Oscar William Gourmet Cotton Candy at a fundraiser. They officially launched the business in September, investing about $2,000 of their own money. Their marketing relied solely on word-of-mouth and social media.
"In the beginning, we had 50 likes to our Facebook page, and then it jumped to over 1,000," she said. 75% of all sales come from the company's Facebook page (the rest come from online and event sales). 10% of all sales go to HIV/AIDS awareness efforts.
"We post almost daily," Kornegay. "We recap events, we give a shout out to our fans, we even do fun surveys asking for suggestions about new flavors."
Chili pepper and cherry were two of the flavors from Facebook polls that were adopted by the company.
They recently launched Twitter and Instagram accounts to showcase events and community efforts.
"We've recouped our investment 20 times over and social media got us there," she said.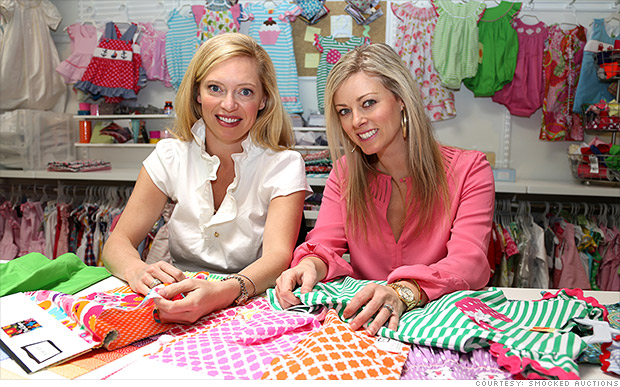 Nicole Brewer [left] and Amy Laws, co-owners of Smocked Auctions
When best friends Amy Laws and Nicole Brewer launched their children's clothing line Smocked Auctions in December 2010, they were on a tight budget.
They invested $10,000 of their own money to manufacture and sell classic Southern-style smocked and monogrammed clothing for kids. With no extra money for marketing and advertising, the partners turned to Facebook and Instagram to get the word out.
"That first year, it was just the two of us doing everything -- invoicing, packing, shipping," said Laws. They set up a Facebook page and quickly collected 20,000 followers.
"We posted regular comments about our lives as moms with young children and the challenges of launching a business. That really connected with other moms," she said.
On Instagram, the ladies post a mix of lifestyle and product pictures. "It could be of cupcakes that we just baked or photos showing previews of a new collection," said Laws. "We try not to overwhelm our audience, though."
Their page today has over 480,000 likes. The business itself is debt-free, profitable, has 10 full-time employees and is on tap to generate $5 million in annual sales. Facebook still generates 65% to 70% of sales.
"We think of ourselves as a true social-media-based company," said Brewer. "The viral, organic nature of it suits us well."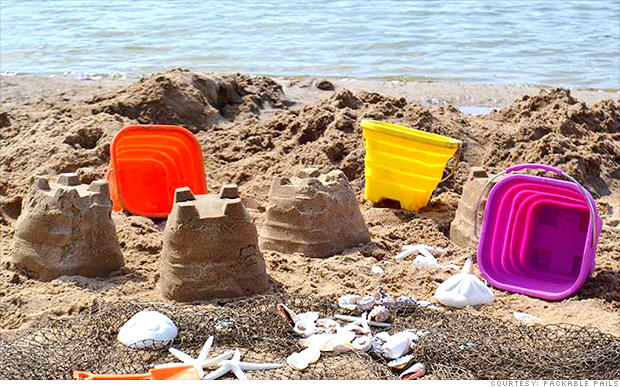 Melissa Reed still can't believe that her Packable Pails were featured on NBC's "Today Show" earlier this month.
She credits social media for getting her young startup on national TV.
Reed came up with the idea for the brightly-colored collapsible beach pails two years ago while vacationing in Myrtle Beach, S.C., with her husband and son.
"We got to the beach and realized we'd forgotten beach toys and a bucket," she said. Back home in Cedar Rapids, Iowa, the Reeds got to work inventing a travel-friendly beach bucket.
They started selling Packable Pails in May on the company's website and on Amazon (AMZN, Tech30).
The Reeds turned to Facebook and Twitter (TWTR, Tech30) to get their business in front of others.
"Through Facebook we connected with a business owner in California who gave us the idea to submit the pails for the 'Today Show,'" she said. The company has also done targeted Facebook ads, focusing primarily on Southern beach states.
Facebook is also their primary source for soliciting retail customers.
"When I reach out to retailers to pitch the pails through Facebook, I almost immediately get a response. That doesn't happen when I try to contact companies directly," she said.
Search for Jobs