Nonprofit Uses Innovative Benches To Engage Homeless, Spread Awareness In Vancouver
Nonprofit Uses Innovative Benches To Engage Homeless, Spread Awareness In Vancouver
Click here to view original web page at www.huffingtonpost.com
When it comes to combating homelessness, compassion remains a rarity in several cities (we're looking at you, Houston Mayor Annise Parker and Tesco supermarket in London), however Vancouver is bucking that inhumane trend for its community's most vulnerable members.
RainCity Housing, a nonprofit that provides specialized housing for people living with mental illness and addiction, partnered with Spring Advertising to launch a month-long hospitable campaign for Vancouver's homeless.
Instead of depicting all-too-familiar imagery showcasing downtrodden faces, RainCity Housing created two types of bench advertisements to get their point across, according to Communication Arts.
One bench transforms into a temporary shelter with a makeshift roof and also features RainCity Housing's address, where homeless individuals can find support.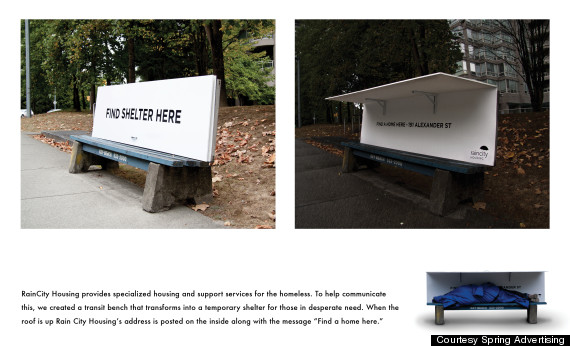 The other type of bench was created with ultraviolet ink. One message becomes legible when struck by sunlight -- "This is a bench" -- and is replaced with a different message once it's dark outside -- "This is a bedroom." The glow-in-the-dark text reflects the harsh reality for those with no where to call home.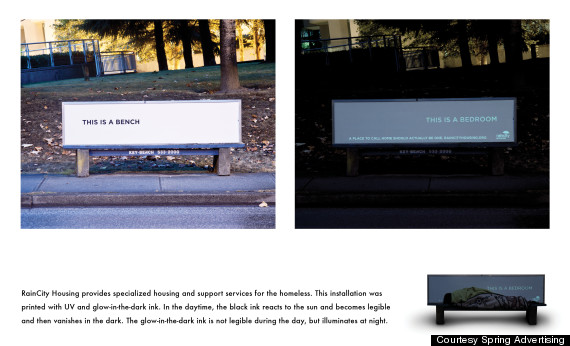 The campaign was part of Spring Advertising's Strange Acts of Kindness initiative, an ongoing policy of giving enacted by the agency, according to Spring's Creative Director, Rob Schlyecher. The company helped RainCity purchase and install the benches.
"Simply put, our society cannot expect homeless people to just go away," Schlyecher said in an email to The Huffington Post, noting Vancouver's mild climate coupled with a decades-long policy of closing local mental institutions has resulted in a "perfect storm" for homelessness in Vancouver. "They need a safe place to sleep and a base from which to stabilize their lives."
To learn more about RainCity Housing's mission, visit the organization's website.
Like Us On Facebook

Follow Us On Twitter